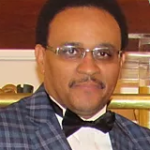 Dr. Raymond Garrett
Dr. Garrett is a faithful man of God, family man, husband and father. He enjoys his marriage of 27 years to Mrs. Juanita Garrett and 1 daughter Destiny.
Currently serving as Pastor of Greater Love Metropolitan Worship Center for the past 20 years. He has received numerous awards and credits for ministry and community service.
He works as the Director of Chaplaincy & Bereavement Services for a national hospice company and has a consultancy and private practice as a Board Certified Chaplain, Board Certified Counselor, a Certified Grief Counselor and is a Clinical Pastoral Supervisor. Also he supports as a District Chaplain for a federal agency under the Dept. of Justice.
His diverse prior experience also includes 21 years in the area of Public Health and Regulatory Compliance and 15 years serving as a volunteer Law Enforcement Chaplain for both the federal and local governments.
With his education he holds a Bachelor's degree in Management, his Master's in Divinity degree in Pastoral Counseling, Master's of Arts in Ministry and a Doctor's of Ministry.
Also, he did his graduate internship & CPE in Clinical Pastoral Counseling & Chaplaincy. He also has training in Trauma/Critical Incident & Conflict Resolution.